If you received dental implants in Orange County within the last year, then you may be struggling to get routine implant care. The latest government-issued guidelines have stated that oral care offices must operate under a new, COVID-19 safe schedule. Telephone support is available for all patients and appointments will be made on an as-needed basis. Fortunately, you can still care for your dental implants even in the midst of a pandemic; you just need to follow certain hygienic practices and keep in contact with your dental implants specialist in Mission Viejo. 
For long-lasting dental implants, it is important to keep the placements clean. This will ultimately prevent common infections, such as peri-implant diseases, from developing. Peri-implant diseases are similar to gingivitis in that they develop as a result of plaque buildup. They can eventually lead to bone loss around the implants or natural surrounding teeth. This causes problems with your dental implants and also threatens your overall oral health. Here are some of the recommended hygiene practices for dental implants:
Clean twice a day with a soft-bristled toothbrush. Make sure to brush under and around the crown on your placement. 

If your normal toothbrush and toothpaste are not enough, consider using an interdental brush coated with nylon. You can also try unwaxed floss tape for a more thorough clean.

Follow any other recommendations given by your oral care specialist, especially if you have gotten multiple dental implants in Orange County. Contact your oral care clinic with any questions.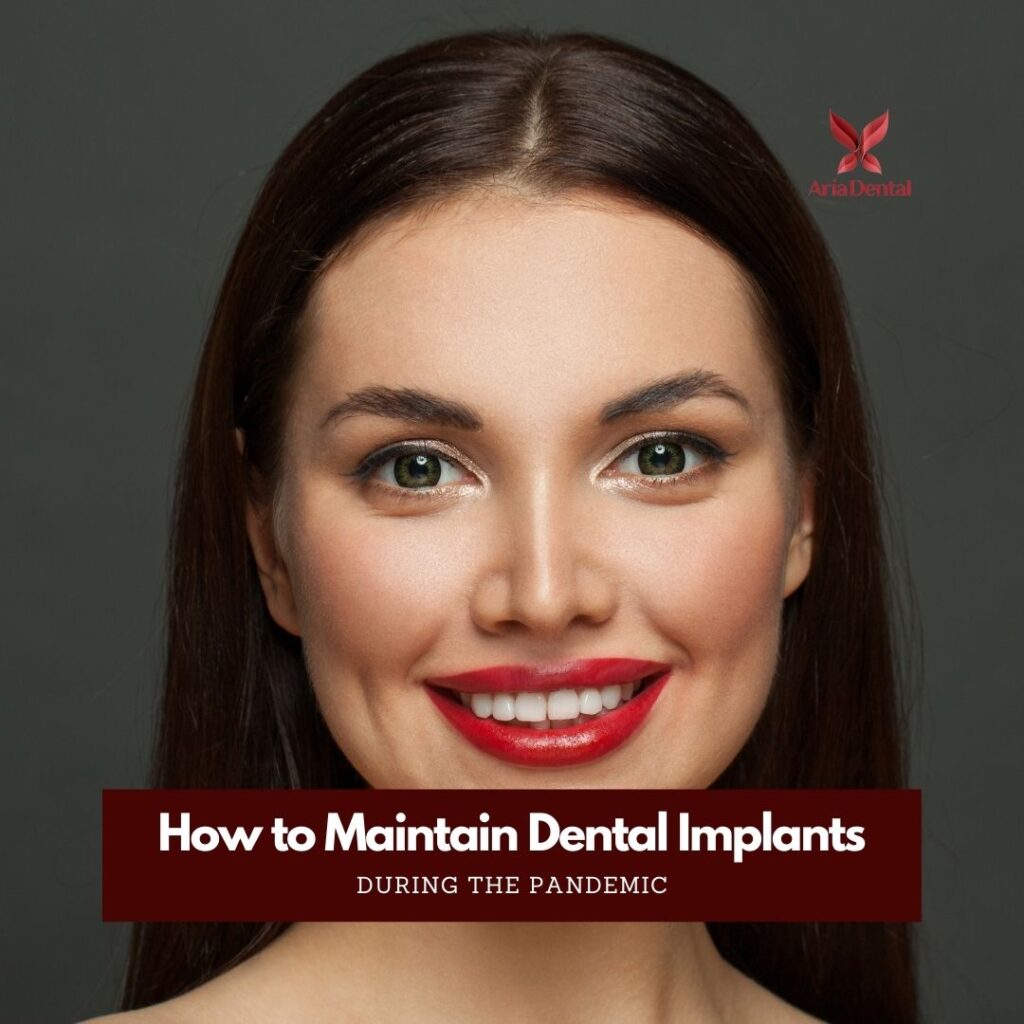 Daily oral hygiene habits are extremely important in a time when fewer people are able to visit their dentist. However, if you have any problems, please be sure to notify your oral care specialist in order to determine if an emergency appointment is required. Dentist offices have implemented strict sanitation guidelines and are reducing the number of staff and patients in their offices in order to keep everyone safe.
If you notice any unusual pain or discomfort in your mouth, then you may want to consider scheduling an appointment with your oral care professional. There are certain symptoms to look out for that may point to short-term or chronic infection as a result of peri-implant disease. Here are some of the symptoms that you may be able to identify yourself: 
Gum redness or soreness (could indicate plaque buildup). 

Difficulty chewing due to inflammation or loosening of dental bridge or crown. 

Swelling around implant, gums, mouth, neck, or eye. 
In order to avoid this discomfort, make sure that you are cleaning your gums gently but thoroughly twice a day. You can soak your toothbrush in hot water to make the bristles even softer before brushing. Some dentists also recommend antiseptic mouthwashes to help keep implants clean. 
If you notice any loosening of your crown, bridge, or implant screw, then you should immediately contact an oral care specialist. This will require direct attention. Minimize your risk of dental implant issues by avoiding chewing on sticky sweets, hard nuts, and ice. These foods can damage your dental implant and result in expensive repairs. Contact your oral care professional for more advice in caring for your dental implants.