If you want to improve your crooked, uneven, or chipped set of teeth, porcelain veneers from your cosmetic dentist in Mission Viejo might be the right fit for you. In this post, we take a look at what porcelain veneers are, how they can help your smile, and how they are placed on your teeth.
The Porcelain Veneer Advantage
Dental veneers are custom-made thin shell coverings, designed for your front teeth. There are two main types of veneers: porcelain and resin composite. Of the two, porcelain is a more widely preferred option for veneer placement. Below are some reasons porcelain veneers are a popular method for improving one's smile:
Conformity – With veneers, defects such as wide spaces between the teeth, poorly shaped, broken, or stained teeth can be masked to give you that photogenic smile you've always dreamed of.
Stain resistant – Since porcelain is impenetrable, it will not get a permanent stain from cigarettes or spices.
Conservative placement – With porcelain veneers, little to no tooth reduction is needed.
Painless procedure – The procedure for adding veneers takes little effort and is relatively painless. Our patients report being comfortable throughout the procedure.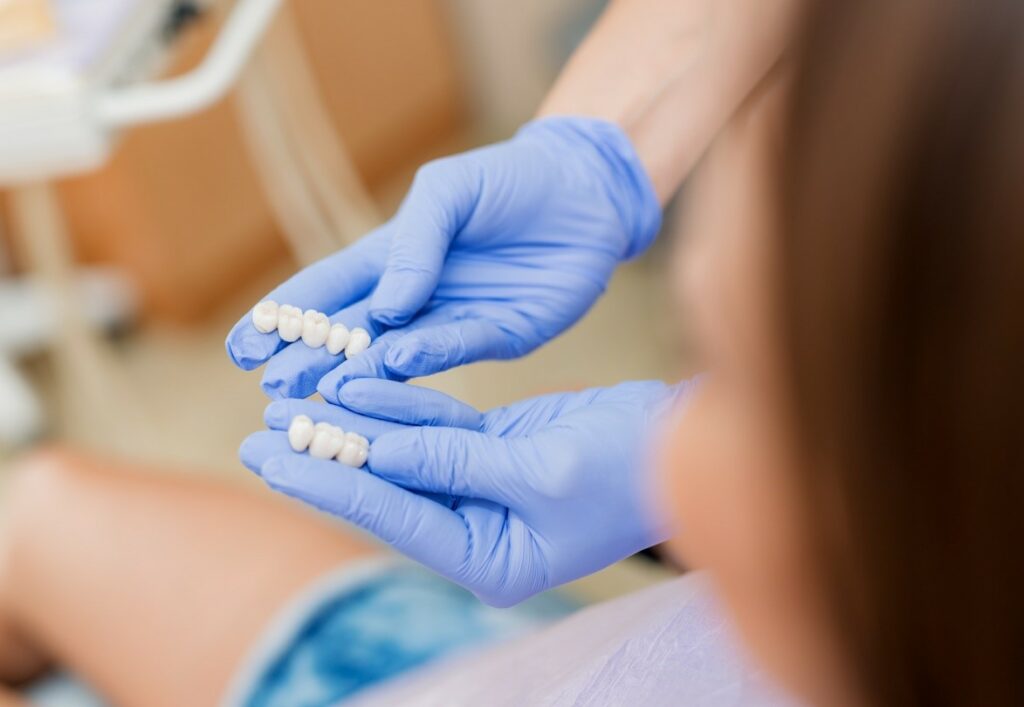 How Porcelain Veneers are Applied
Getting porcelain veneers from a dentist in Mission Viejo is an easy and painless process! Here is an overview of how veneers are bonded to your teeth:
The tooth is trimmed. The enamel on the front tooth is trimmed to the same thickness as the veneer that will be added to the tooth surface. In case you have tooth decay, your dentist will have to trim more enamel from your front tooth.
The shade of your teeth is copied. Your dentist will use a guide to find out which color of porcelain is most similar to the natural color of your teeth. The color of the veneer can be adjusted based on the cement that will be used.
An impression is made of the teeth. Your dentist will then take impression paste and put it on your teeth. After a while, it will be removed from the mouth. This will be used to make the veneer.
The veneer will be evaluated before cementing. Your dentist will set the veneer in place and trim it repeatedly until it fits the tooth. He will also check the shape if some edges can be shortened or squared off.
The veneer is bonded. Once you approve your veneer, it can now be bonded in place. The trial paste will first be cleaned, and the laminate's internal surface will be prepared. Afterward, a bonding agent will be applied to secure the veneer on your tooth.
Get Your Porcelain Veneers Now!
If you want a quick cosmetic fix to your teeth, porcelain veneers are the fastest and best solution! For the best made dental veneers in town, trust no one else but our cosmetic dentists.
Aside from cosmetic dentistry, we also offer dental services for your children. Trust our reliable pediatric dentists in Mission Viejo to give your children a great smile. Contact Aria Dental now by calling (949) 364-9600 to be able to directly dial the number, and take the first step to fix your smile!