After receiving dental implants in Mission Viejo or Orange County, most patients will be given dietary recommendations from their oral care professionals to ensure a successful and pain-free recovery. This is to avoid any physical disruptions or irritation in the mouth. It is important to remember that the body needs nutrition, especially when undergoing the healing process, so it is not a good idea to just skip meals. Diabetic patients or patients with other conditions should make sure to consider their dietary needs and fulfill them as directed by a medical professional. 
Most oral health professionals will recommend a soft and liquid diet directly following the procedure, which can evolve into more solid foods over the next few days. Hydrating the body with water is also important. Some examples of soft foods include lukewarm soup, pudding, yogurt, ice cream, and smoothies. Experts recommend avoiding high-temperature foods because these can cause excess swelling or bleeding. Other things to avoid after getting dental implants are beverage straws, alcoholic beverages, and smoking. 
During the recovery process, it is very important for a patient to maintain comfort and safety. This experience may vary from person to person, which is why each individual may have to find what works for them as long as it is still in line with their dentist's recommendations. Solid foods should be saved for when a patient has regained complete feeling in their tongue and smaller pieces of food like rice, popcorn, nuts, and seeds should be avoided since they can get stuck near the dental implant.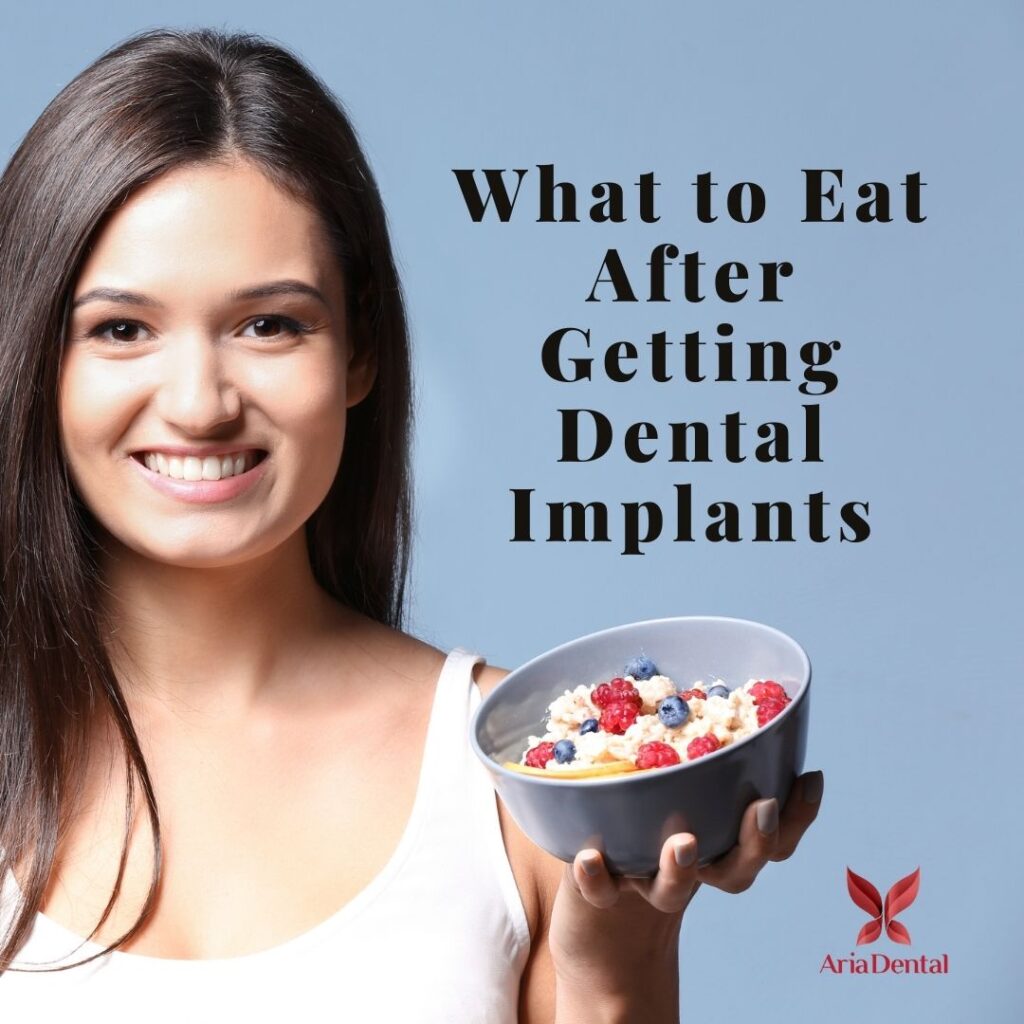 Here are some of the best foods to eat while recovering from your dental implants: 
Soft snacks: any juiced veggie, soft fruit, smoothies, milkshakes, hard-boiled eggs, soup broth, yogurt, pudding, ice cream, peanut butter. 

Soft breakfast foods: oatmeal, soggy cereal, untoasted bread, pancakes, grits, scrambled eggs, cottage cheese, applesauce. 

Soft lunch and dinner foods: soup, mashed potatoes, mac 'n' cheese, soft bread, ground beef, cooked veggies (cut finely), baked fish, broiled chicken, tofu, beans.
While you are recovering from dental implant surgery, it is also important to avoid any foods that may cause you problems or pain. A good rule of thumb to follow in order to test food is to see if you can easily cut something with a plastic fork. If you can't, or if it requires great force, then you should probably avoid that food until your mouth is ready to withstand that kind of pressure. Here are some examples of chewy, crunchy snacks that are a good idea to avoid until you are fully healed: 
Chips, pretzels, nuts

Croutons and salad lettuce

Chewy bread, hard taco shells

Raw fruit and veggies

Chewy meats like steak

Sticky candies like toffee and gum 

Ice cubes
Once your mouth has fully healed from your implant surgery, you should be able to return to your normal eating schedule. Make sure to check in with your oral care professional before integrating hard, crunchy foods into your diet again. Also, make sure that you adjust your oral hygiene routine according to your dentist's recommendation during this time. It is always a good idea to exercise caution after a dental implant surgery to ensure that your smile stays healthy and happy all through the process! 
Aria Dental provides Biological, Biomimetic, and Biocompatible dental treatments to help patients maintain a holistic healthy lifestyle and a happy smile. 
We offer Metal-Free Ceramic Zirconia dental implants that are ultra-biocompatible and use 3D Green Cone Beam CT-scan for more precise and accurate implant placement with fast and painless results. 
To learn more about dental implants and metal-free zirconia implants, please contact us today at (949) 364-9600 or visit our website: www.AriaDentalCare.com