In many ways, the year 2020 has changed the way we operate as a society. COVID-19 has reminded people to put their health first and practice safe interactions in public. This is especially true when it comes to oral health. According to oral care professionals, the mouth is known as the gateway to the body, which means that many health issues can be detected in this region. This is why regular dentist appointments are so critical to maintaining general health as well as dental health. Dental clinics in Orange County particularly Aria Dental have fortified their sterilization practices in order to accommodate the needs of the present and ensure that patients feel comfortable coming in for dental implants or any other dental procedure. 
Recently, the ADA or American Dental Association published a study that confirmed the safety of dentist offices during this time. According to their research, dentists were more than unlikely to contract the virus and thus be a source of any risk to patients. More than 99% of dentists nationwide were estimated to be COVID-19 negative in this study and changes to dental office procedures are sure to keep this number high. The American Dental Association thus concluded that dental offices can continue to operate with their improved safety measures with little to no risk to patients receiving dental implants or any other dental procedure in Mission Viejo. 
Dentist offices, like many medical clinics, are already a health-conscious environment where masks, gloves, and cleaning solutions are commonplace. During a worldwide pandemic, clinics have certainly enhanced their safety measures with face shields, social distancing, and greater sanitation; however, the principles remain the same. If you have an appointment for dental implants in Mission Viejo or Orange County, then here are some of the things you can expect at Aria Dental to prevent the spread of COVID-19: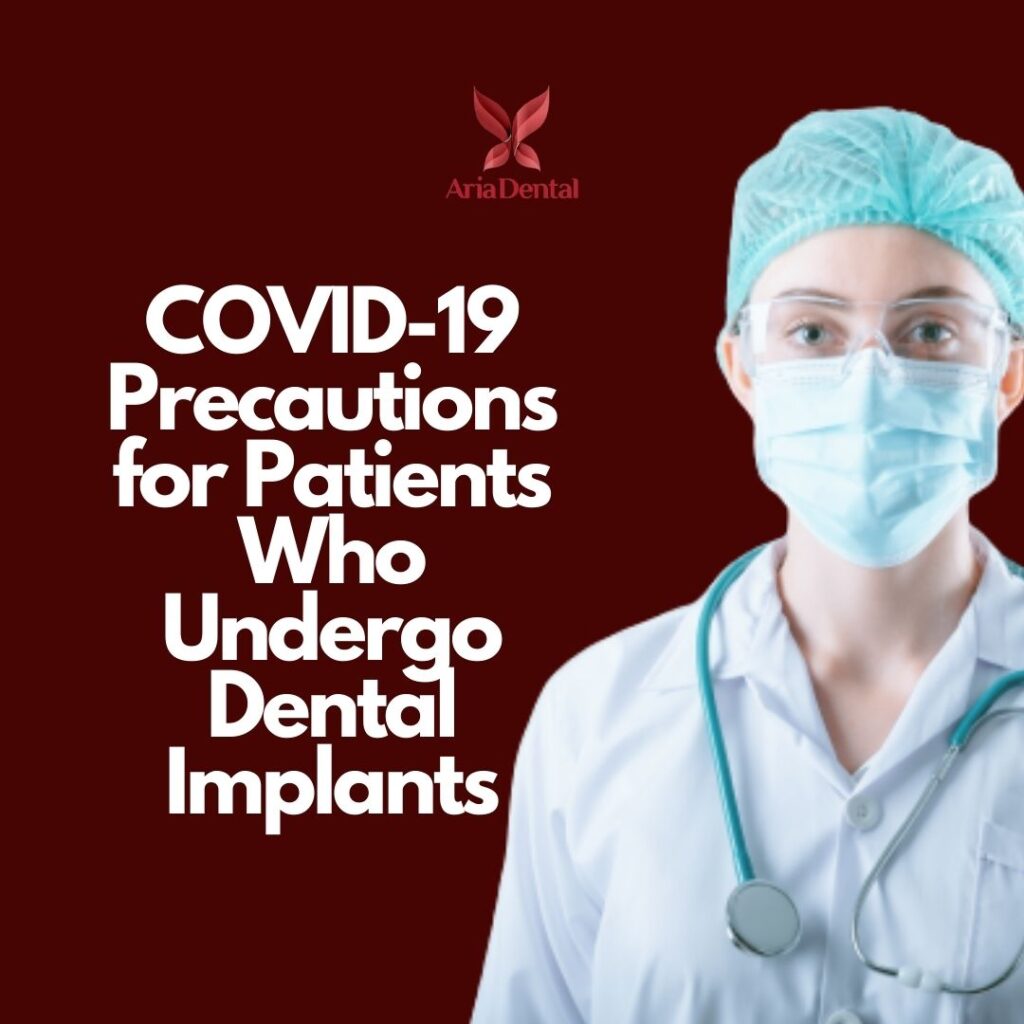 Health Screening

–

W

e run through

a checklist of COVID-19 symptoms to ensure that individuals are not a risk to other patients or staff. Most dental clinics will take your temperature upon entrance. If you have one or more symptoms of the virus, then you may be asked to reschedule your appointment. 
Masks –

Our staff

will be required to wear a mask at all times. Patients must arrive wearing a mask and only remove them when instructed by an oral care professional. 
PPE –

Along with wearing a mask,

our

staff will be armed with other personal protective equipment including face shields, coats, gloves, medical-grade masks, and aerosol controlling equipment to ensure the safety of everyone coming in and out of the office. 
Rubber Dams –

A

s a holistic and biological dentist in Mission Viejo and Orange County, we always have utilize

d rubber dams to isolate parts of the mouth for a procedure. This reduces the amount of exposure a patient has to the air particles in the room.

Aerosol-mitigation devices

may also be utilized to minimize risk. This will not be necessary for every procedure or in every dental clinic. However, it is an available resource. 
Social Distancing –

According to government regulations, dentist offices in Orange County will enforce a rule of six feet apart between patients. Smaller offices may only accept a few patients in the waiting room at a time, asking others to wait in their car until called for their appointment. 
Cleaning –

In addition to standard protocols,

our staff

will increase sterilization methods for appointments as well as in waiting rooms and bathrooms. Pens, card-readers, touch-screen devices, and any other high-touch surfaces will be regularly disinfected. 
Complying with Program –

Even though we have always practiced the toughest infection control beyond OSHA requirements, we have developed a Respiratory Protection Program and going to comply with the Cal/OSHA requirements under its Airborne Transmissible Diseases (ATD) standards. 
Reduced Traffic –

Patient appointments will be staggered throughout the day to allow for proper social distancing and staff will be limited to only the necessary few. Adult patients are asked to arrive alone and minors can be accompanied by one adult. 
HEPA Air Purifier –

We have implemented a HEPA air purifier in each room to reduce the dangers of aerosols, pathogens, and mercury vapor in our dental 
Isolite® Isolation System (Continuous Intra-Oral Suction * Insolation) –

Aria Dental has implemented Isolite which will significantly reduce Aerosols and Droplet Spatter by strongly suctioning aerosols directly from patients' mouths before it spreads out into air.
As always, our main concern is the safety and well-being of our patients and staff. We are thrilled to announce that all of the safety measures as mandated by the state and in accordance with best health practices from the American Dental Association (ADA) and U.S. Center of Disease Control and Prevention (CDC) were already implemented in our practice and we will continue to strictly practice them. We like to put our patients at ease when it comes to infection control and limit virus spreading. If you have any questions or concerns, contact us at any time by calling us at (949) 364 – 9600 or visit our website at www.AriaDentalCare.com.