A woman's health is extremely important during pregnancy. So it comes as no surprise that many women are concerned about receiving dental treatment that could expose themselves and their unborn child to allergens or toxins. This common fear prevents many pregnant patients from making a dentist appointment, whether for a routine cleaning or dental issue. According to Maryam Horiyat, DDS, a dentist in Laguna Niguel and Mission Viejo, oral health is just as important during a patient's pregnancy as it is before and after. Avoiding the dentist is not the answer. Instead, many women are finding that they can receive safe dental treatment from an accredited biological and holistic dentist.
Instead of relying on traditional tools and resources, holistic dentist offices offer non-toxic, biocompatible solutions to all patients, creating the perfect oral care environment for sensitive patients. Pregnancy can affect oral health in more ways than one, which is why it is important for expecting patients to visit the right dentist in Mission Viejo and Laguna Niguel to protect their teeth. Morning sickness is known for causing tooth erosion while hormonal fluctuations can affect gum health. Pregnant patients who require unplanned dental procedures, such as a filling, will benefit from the non-invasive, metal-free practices that holistic dentistry follows.
Holistic dental care is more than convenient; in fact, it's more than necessary for health-conscious mothers that want to maintain healthy teeth and gums. With Maryam Horiyat DDS, a holistic dentist in Laguna Niguel and Mission Viejo, all dental treatments are performed with a whole-body approach, using the highest modern technology and materials in the industry. Procedures are free of toxic chemicals and allergens, minimally invasive, and specific to each patient's needs.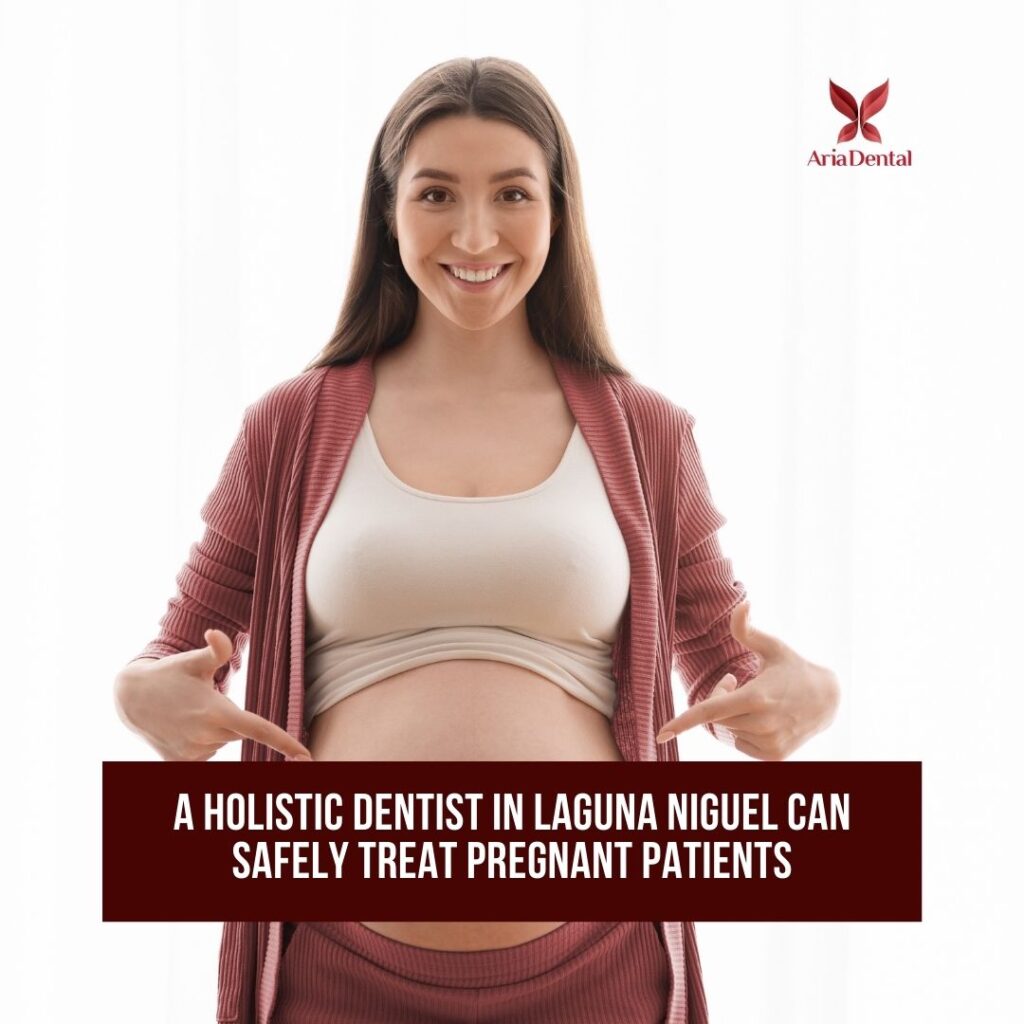 Here are some of the oral health changes that patients can expect to have during pregnancy and how they can approach a solution with the help of a holistic dental provider:
Hormonal Fluctuations 
Many women develop gingivitis during pregnancy because of natural changes to their immune system and hormones. The signs of early-stage gum disease include tender, swollen, or bleeding gums. Take note of your gum health during pregnancy and be sure to schedule an appointment with your holistic dentist to help remove plaque build-up and prevent more serious forms of gingivitis from developing.  
Enamel Erosion 
Did you know that morning sickness can actually cause enamel erosion? When stomach acid enters the mouth, it can attach to the back of teeth and eat away at protective enamel. While your instinct might be to brush your teeth immediately after, this can further damage the enamel. Instead, pregnant patients should rinse with water to dilute the acid. Women can also smear a small amount of toothpaste with their fingers or use a suitable mouthwash to wash away the taste.
Changes in Saliva Production 
It is normal for pregnant women to experience an increase or decrease of saliva production during their nine months. This may be caused by vomiting, nausea, medications, hormonal fluctuations, or all of the above. Women experiencing on-going dry mouth may find that chewing sugarless gum or drinking more water may help remedy the issue. However, they should consult a holistic dentist if they notice their dry mouth worsening, because this could lead to greater bacteria in the mouth.
Gum Growth
Around the second or third trimester, some pregnant patients notice pink or red lumps develop on their gums. This is known as a "pregnancy epulis." Fortunately, this benign growth will typically subside after pregnancy. Patients can control the swelling by avoiding acidic foods and drinks as well as maintaining a well-balanced diet. If this inflammation becomes uncomfortable or interferes with brushing or eating, then you should schedule an immediate appointment with your holistic dentist.
Here at Aria Dental, the ultimate goal of our office is to preserve your natural teeth for life even during your pregnancy and maintain your oral health at an optimum level with holistic and biological approaches.
We are certified and accredited member IAOMT (International Academy of Oral Medicine & Toxicology), IABDM (International Academy of Biological Dentistry & Medicine), and Holistic Dental Association (HDA)
To schedule your appointment and consult with our holistic and biological dentist, please call us at (949)364-9600 or visit our website: www.AriaDentalCare.com