There have been numerous times ‌that extracting a tooth is the best, and perhaps, the only option for patients. At Aria Dental, we have the best dentist that can remove a tooth for you using the most current biological procedures.
Biological protocols to remove teeth consist of the following:
taking off the periodontal ligament

debriding the protective calcium perimeter in the bone

getting rid of necrotic tissue

performing ozone in the surgical site

adding platelet-rich fibrin (PRF) to the surgical site (add-on option)
At Aria Dental, patients can stay rest assured that they will receive the best healing and results when they take the steps mentioned above. Find out more about holistically removing teeth down below.
Biologic Extraction Protocol
When the best dentist in Orange County uses the biological extraction protocol, it consists of the non-traumatic removal of a tooth, the removal of the periodontal ligaments, and unique post-operative healing methods. When a tooth is removed, the periodontal ligament and perhaps even about one millimeter of spongy bone within the socket is cleared away using a long-shanked surgical round bur. Only a bur and manual removal of the PDL is carried out since research has shown that manual scraping on its own is not sufficient enough to clean the socket carefully and may even be responsible for pushing bacteria and other toxins back into healthy bone, possibly resulting in loss of primary healing and in a higher chance of fundamental healing and in a higher risk of recurrent infection. Getting rid of infected bone as well as the surrounding calcium dense wall does the socket good by revealing bleeding, healthy bone, enhancing natural nutrient flow into the area, and letting waste flow out.
Removing infected bone and/or the surrounding calcium-dense wall takes the socket down to good, bleeding, healthy bone, promoting natural nutrient flow into the area and waste flow out.
Anticipate bleeding a bit longer with a biologic extraction. Bleeding helps take away residual infection and starts the healing process. If you experience a bit of blood after an hour, your best dentist Orange County advises that you put a cool, wet, black tea bag on the area where the extraction was performed, clamp your teeth together gently, and hold it in place for a half an hour to allow a clot to form.
Periodontal Ligament
Regardless of the tooth you remove, it will have a periodontal ligament (PDL) made out of loose connective tissue, collagenous bundles, blood, nerves, and lymph vessels. The PDL helps the tooth stay in place and works as a shock absorber. The PDL is what protects the tooth from chattering when you bite down and chew.
It is routine care for a traditional oral surgeon to believe that the periodontal ligament sticks to the tooth and is always removed during extraction. Although sometimes it is, there are times that the PDL stays within the socket.
When the PDL is left in the extraction site, it stops the body from biologically recognizing the absence of the tooth. Then bone cells won't grow rapidly and drift through a membrane meant by nature to determine the growth limits of the jawbone.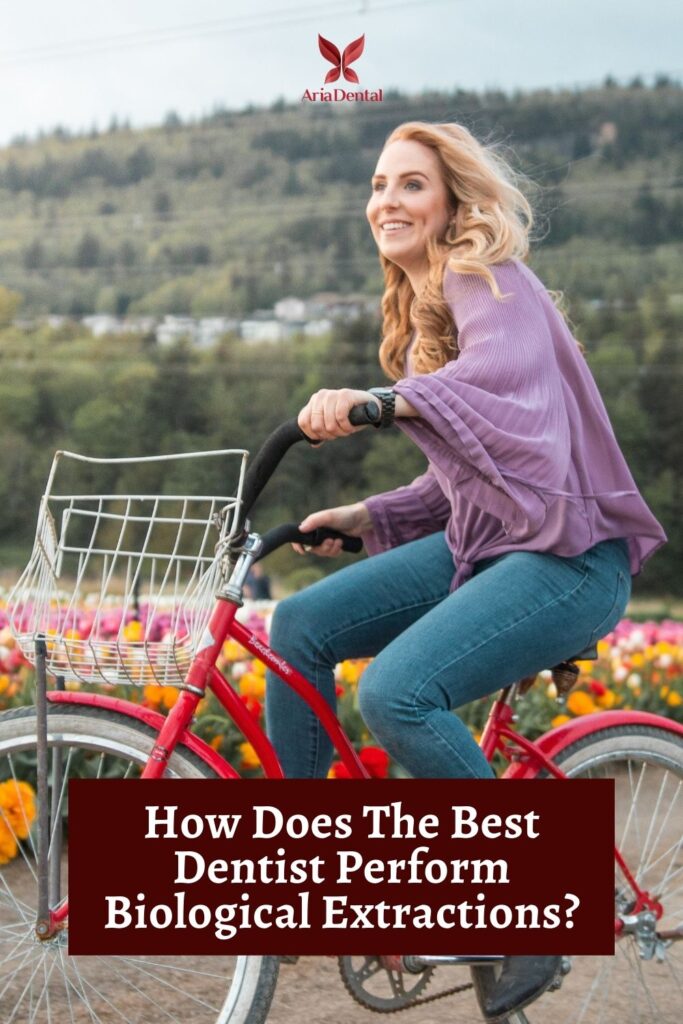 Platelet Rich Fibrin (PRF)
A biological dentist can create platelet-rich fibrin from a small sample of blood drawn from the patient prior to the procedure. This blood is spun down in a centrifuge to make it into a gel that is packed using the patient's own healing and growth components. PRF is used in biological dentistry rather than traditional bone grafts for procedures such as implant placement, extractions, and periodontal or cavitation surgery.
Oxygen-Ozone and Healing Injection
Most holistic dentists will recommend a post-extraction healing injection with medical-grade oxygen-ozone, that is usually done the same day or immediately to sterilize the area. Medical-grade oxygen-ozone gas produces an oxygen-rich environment that brings about a multi-factorial, positive, biochemical/physiological modification in affected tissues. Ozone is a very powerful sterilizer and can destroy or neutralize viruses, bacteria, fungi, mold, and parasites.
Normally, ozone injections are done together with therapeutic healing injections that include B12, folate, procaine, and a combination of homeopathics such as lymphomyosot to enhance lymphatic drainage and trauma and to help acute and chronic inflammation. The mixture of injections prepared by the best dentist Mission Viejo brings nutrients, flushes away toxins, the cells increase in the immune system, encourages lymphatic flow, and improves general well-being.
Easy To Follow After Care Instructions
Once the biological extraction procedure has been carried out, you can follow these easy-to-understand tips from your cosmetic dentist Orange County for quicker and better healing.
Put gauze on the extraction site and bite firmly. Replace the gauze as required for 30 minutes or until the bleeding stops.

Anesthesia takes a few hours to wear off, so be careful not to bite your tongue, lips, or cheek while you are still feeling numb.

For the next 24 hours do NOT smoke, drink from a straw, blow your nose, excessive spitting, hot foods/liquids, and vigorous rinsing

Make sure to use the natural remedies prescribed by your

cosmetic dentist Mission Viejo

, and only use non-aspirin pain medication to relieve discomfort when required.

After 24 hours, start to rinse your mouth gently with warm saltwater. Make a mixture of ¼ teaspoon salt and 1 cup water, and rinse every four hours.
We always do our best to give our patients the best results with the holistic steps mentioned above. Similar to many of our dental procedures, we always provide the most natural, holistic option available to safeguard our patients.
Contact Aria Dental at (949) 364-9600 to make your next holistic dental appointment. We are your trusted holistic dental provider, offering safe, non-toxic alternatives for every dental procedure. Furthermore, we are a top certified member of IAOMT (International Academy of Oral Medicine & Toxicology), IABDM (International Academy of Biological Dentistry & Medicine), and HDA (Holistic Dental Association).