When you think of dentists, you probably envision traditional practices, procedures, and dental materials used for oral health. Holistic dentistry, otherwise known as biological dentistry, is a contemporary practice born out of a desire to treat the body as a whole. There are many benefits to finding a holistic dentist in Laguna Niguel or Mission Viejo, one of which is avoiding unhealthy or allergy-prone ingredients in certain conventional dental treatments. Titanium implants, dental restorations with heavy metals like Silver amalgam fillings or crowns with mercury, fluoride treatments, and other common materials in dentistry are replaced with alternative, non-toxic treatments in holistic dentistry. 
When you visit a holistic dentist such as Maryam Horiyat DDS, you know that your health will be attended to with diligence and the best modern technology to date. A fully accredited biological and holistic dentist like Aria Dental provides metal-free materials like Zirconia ceramic implants and non-toxic cleaning procedures like ozone/oxygen treatment. The philosophy behind these alternatives is that your body is connected, which means that problems in one area can predict and cause problems in another.
Holistic dentistry recognizes new scientific findings and concerns in traditional dental practices and makes adjustments for the safety and health of patients. This is not new to the profession of oral health. After all, dentistry has been constantly evolving since the first dental records were ever written. It's a good thing that we're not still following the same dental practices as medical experts in 5000 B.C.!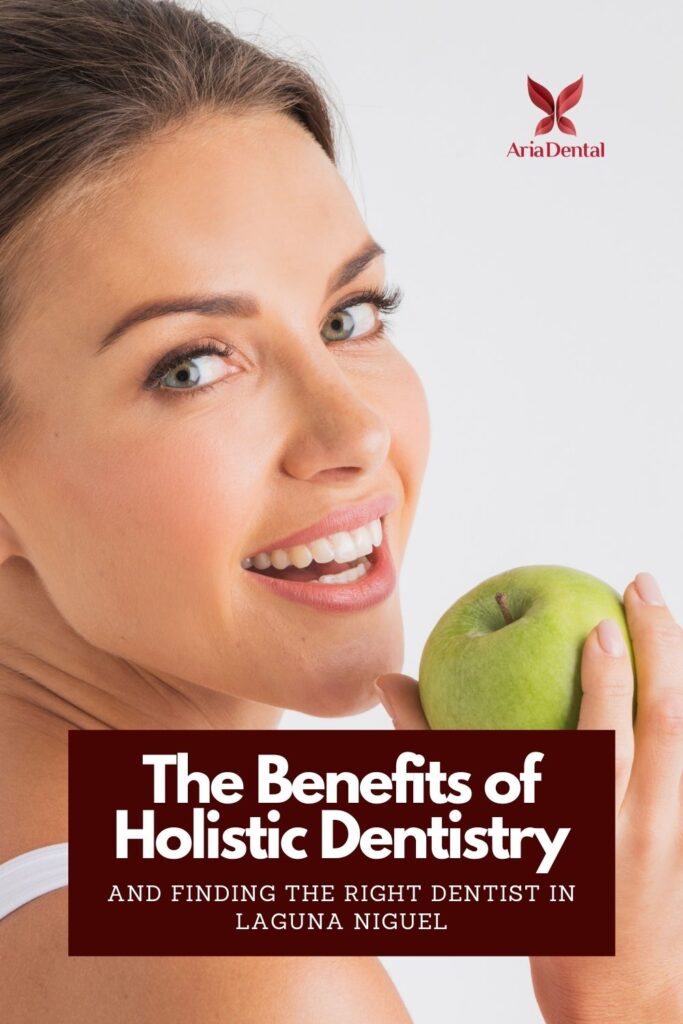 A holistic dentist in Laguna Niguel and Mission Viejo will reject materials that have been proven unhealthy even if they are currently legal and available to oral health care practitioners. The easy way to treat oral health is not always the best way. For example, amalgam fillings used to be made of more than fifty percent toxic mercury. Since their invention, medical professionals learned that mercury causes issues like neurological conditions, autoimmune diseases, memory loss, vision deterioration, and muscle weakness. It can also affect your kidneys, heart, and skin. These kinds of findings motivate holistic & biological dentists to find a better, stronger, safer way to treat patients.
By focusing on the body as a whole, holistic dentistry can reduce your risk of developing things like Alzheimer's, pancreatic cancer, and stroke. After all, plaque & microorganisms like bacteria and fungi which made ar known for their ability to move to your heart and brain as well as the rest of your body. When your oral health takes all of this into account, it ensures that you are the healthiest individual you can be.
If you have more questions about biological and holistic dentistry versus traditional dentistry, then feel free to give Aria Dental a call at (949) 364-9600 or visit our website at www.AriaDentalCare.com. Our offices are accredited and certified under the International Academy of Oral Medicine and Toxicology (IAOMT), Holistic Dental Association (HDA), and International Academy of Biological Dentistry and Medicine (IABDM). Aria Dental offers digital bite correction, all sedation options, digital impression, digital X-rays, in-house cone beam CT-scans, and syringe-free procedures by skilled specialists in the field. Schedule an appointment now to learn how you can take control of your oral health and the health of your body as a whole.