When patients receive dental implants in Orange County or Mission Viejo, they can see that the procedure is truly life-changing. It can improve a person's day-to-day and restore their confidence by giving them their smile back. Losing teeth from injury or decay can have an astronomical effect on someone's daily activities. Eating, talking, and laughing become a constant source of concern for a person with missing teeth. Even solutions like partial dentures or bridges may not provide enough functionality and comfort to completely resolve the issue. Aria Dental uses metal-free ceramic Zirconia implants offer a permanent solution with a high success rate and the most biocompatibility. Since we're not using any metal, there won't be any harm either to your mouth or body.
While complications are not typical with dental implants (over 98% are successful), it is important to consider the possibility when going in for a procedure. The best way to minimize these risks is to get dental implants in Mission Viejo or Orange County from a certified dentist with a wealth of experience such as Dr. Mariyam Horiyat. In addition, choose a dental office where they not only offer the highest quality of both Zirconia and Titanium implants from a USA- or Swiss-reputable manufactures, but also various options of oral sedation like what is being used and implemented in Aria Dental.  Patients can also increase their chances of dental implant success by following all the directions and recommendations given by their dental hygienist and following up with the necessary check-up appointments after. Here are some possible dental implant complications and how to avoid them when getting your procedure.  
Infection or Trouble Healing
As with any surgical procedure, the risk of infection decreases with aseptic precautions and methods. The human mouth is full of bacteria but an oral surgeon will sterilize the instruments and apply natural Ozone/Oxygen therapy to the mouth in order to avoid contamination. Patients can expect moderate to mild discomfort after surgery for one to four days. If there is extreme pain or discomfort lasts longer than expected, then this could be a sign of some complication. However, this is very uncommon in an office adhering to compliance. The only reason why someone might develop an infection otherwise is because of a previous health problem. You can prevent any serious infections from developing by simply keeping up communications with your dentist and informing them of your symptoms.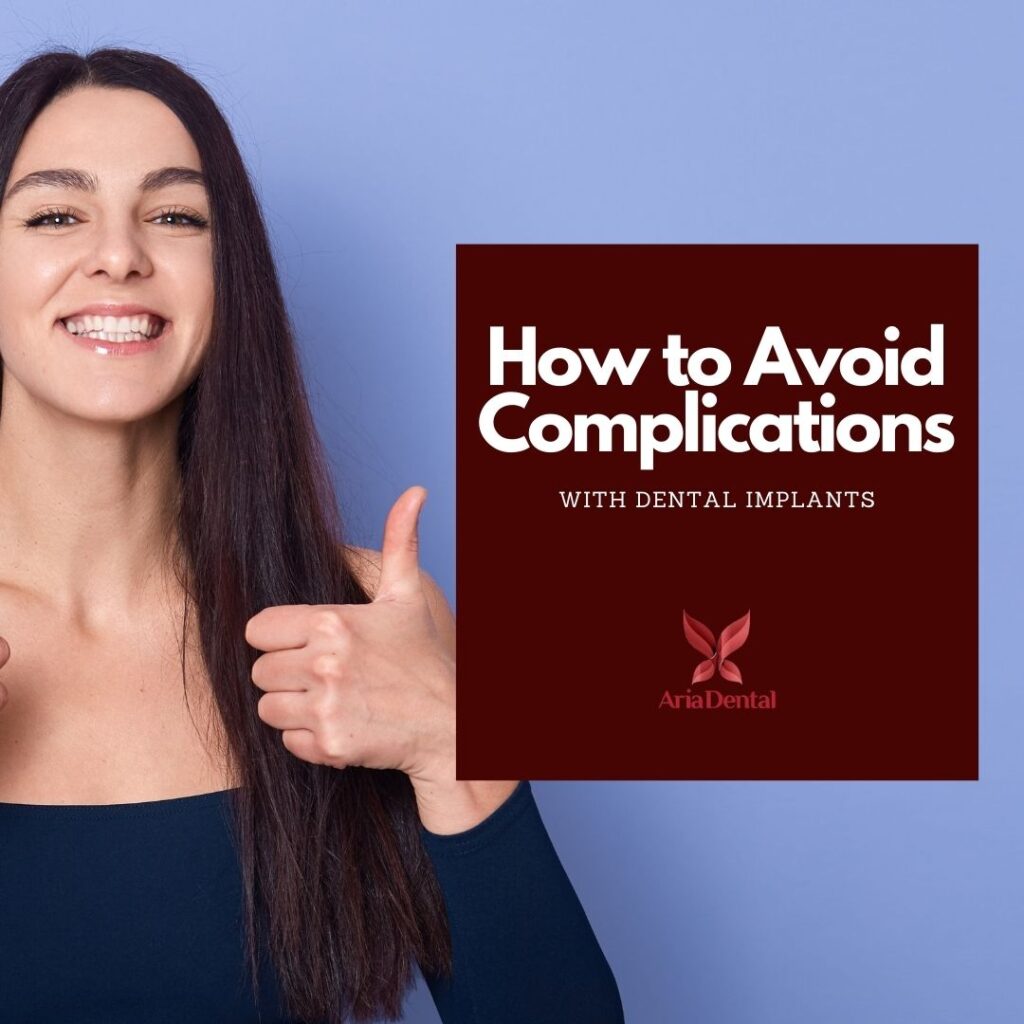 Micromovements
In order for dental implants to be successful, they must be immobile long enough for osseointegration to take place. This process is responsible for stabilizing the implant and happens during the healing process. Dental implants in Orange County take around 16-17 weeks to completely heal. During this time, the bone undergoes mineralization and remodeling. There are some cases in which micromovements between the first 8-12 weeks of healing will compromise the stability of the implant. These movements make it difficult for the bone to grow around the implant, which leads to loose or even painful dental implants. In order to avoid this complication, dentists recommend a soft or liquid diet for patients who have just received their implants and will keep checking their progress as it heals. 
Poor Placement
Without proper planning, implants can be placed in the wrong part of the mouth, which makes it difficult to situate the new teeth. In order for this problem to be avoided, you should choose a dental office where they have in-house Cone Beam 3D CT-Scan. You also choose an oral surgeon who knows what kind of teeth are eventually going to be placed in the mouth. This will affect the angle that the implants need to be in. At many offices, the dentist will provide both the surgical and prosthetic implant procedures. However, when these phases are separate, it is important to have crystal clear communication. You can avoid this problem by asking questions at your implant consultation. A reputable dental clinic/office will have all the answers for you and be able to soothe any concerns.
Dental implant patients rarely face complications. However, when they do, they are often temporary and fixable by a reputable dental office. Once you have received a successful implant, it is important to keep up oral hygiene maintenance and care. Consult your dentist about dental implants and see if they are right for you. 
To schedule your dental implant appointment with a top dental implant center in Mission Viejo and the rest of Orange County which offers Metal-Free Zirconia Implants, call Aria Dental at (949) 364- 9600 or visit our website at www.AriaDentalCare.com