There will come a time in many people's lives when they have to make an important decision to replace a tooth, or perhaps several teeth. One of the most successful ways of replacing a lost or broken tooth is a dental implant. Getting dental implants not only give you an appealing Hollywood smile but also improve your ability to chew food better. However, getting the best dental implant treatment really comes down to the type of implant used, how the procedure is carried out and what type of technology is available. Here at dentist Mission Viejo we know the ins-and-outs of dental procedures!
Are You Sure Your Dentist Mission Viejo Has Considerable Experience?
When choosing an implant dentist Mission Viejo, you want to make certain you are receiving treatment from a first-rate dental clinic that specializes in dental implants. Why? Because many dentists provide a whole array of treatments such as root canal, extractions, fillings as well as repairs, and the list goes on and on. If you are on the hunt for a dentist Mission Viejo, it doesn't hurt to do your research and find out whether the oral surgeon you have in mind does dental implants regularly. After all, you want the best dental treatment possible, and who can blame you for that? When you're seeking an oral surgeon Mission Viejo CA, the general rule to follow is the only dentists worth considering for dental implants are the ones that have been practicing for at least 10 years.
At Aria Dental, you can stay rest assured that you will get top-notch quality treatment and care. Our dentists have been certified by the American Board of Periodontology and have more than two decades of experience with over thousands of successful results under their belts.
Is Your Cosmetic Dentist A Holistic & Biological Orthodontist?
You should select a cosmetic dentist who is trained and certified by the International Academy of Oral Medicine & Toxicology (IAOMT). To become a holistic cosmetic dentist, special testing is required so only the safest and most biocompatible materials, methods, and techniques are used.
You will be happy to learn that our dentist Laguna Niguel is a qualified holistic and biological dentist who besides being certified by IAOMT is also very proficient with how the mouth connections affects the entire body to provide the most ultimate care for your dental treatments.
Is There a 3D CT-Scan In Their Office For Precise Implant Replacement & a
Comprehensive Evaluation?
To achieve a comprehensive evaluation, it requires both a medical and dental assessment to ensure the patient has no existing medical conditions that will prevent the body from accepting the dental implant or raise the risk of failure.
Unfortunately, traditional X-rays and Panoramic X-rays only furnish the dentist with 2D imaging. Therefore, a 3D CT-Scan is needed for a thorough analysis of jawbone volume as well as a complete assessment of the teeth, gum, bite, and aesthetic factors. Also, a 3D CT-Scan imaging of the patient's jawbone and teeth is necessary for precisely observing important tissues such as nerves and arteries to avoid any harm during procedure. Sadly, a majority of dentists do not have this type of technology available within their practice.
The good news is that at Aria Dental we provide state-of-the-art procedures with our modern and cutting-edge dental implant services such as in-house 3D Cone Beam CT-Scan. Common practices include using a high definition 3D CT-Scan to achieve supreme quality images that accurately plan the placement of dental implants for accomplishing the uppermost success rate.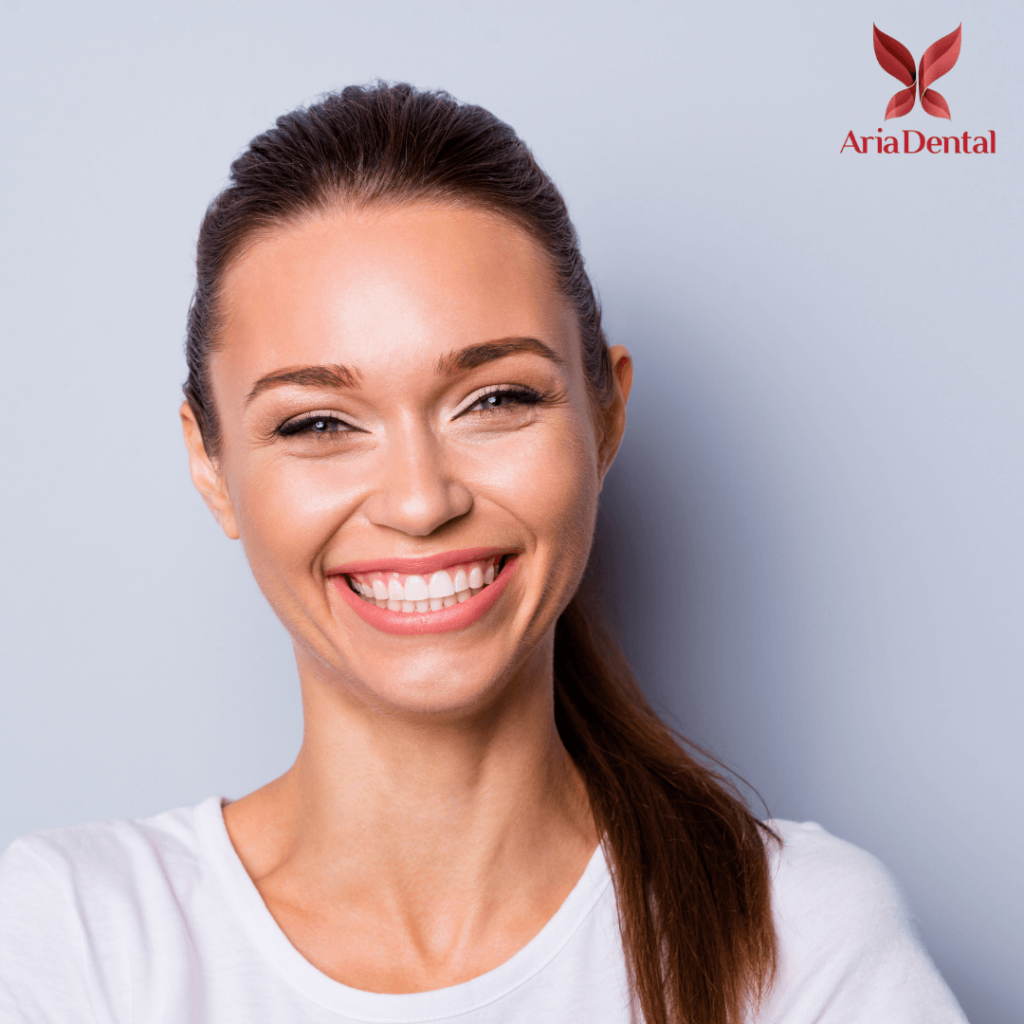 Do They Provide Metal-Free & Biocompatible Zirconia Dental Implant?
There is a good number of dentists who are more than happy to place conventional titanium dental implants into their patients' mouths, but you may as well count the number of oral surgeons who prefer to implant zirconia implants on one hand.
If you come across a dentist who doesn't recommend zirconia implants, it's probably because they simply are not qualified and trained to place zirconia implants. So if you ask for zirconia implants and they are doing all they can to change your mind, it might be a good idea to look for a dentist elsewhere!
A zirconia ceramic dental implant is a natural and holistic implant, which makes them an excellent choice over traditional titanium implants since they have many unique benefits that include the following:
Metal-free
Very biocompatible
No wear and erosion
Super strong
Integrates better with the jawbone and immune system
No allergic reaction
Our advancements in treatment, technology, and training enable us to be one of the few offices in California that offer our esteemed clientele both metal-free zirconia dental implants and titanium implants.
What Type of Dental Implants Are They Using?
You need to be cautious of dentists who find nothing wrong with placing cheap implants into your mouth. In the long run, what's important is your oral and general health. So, do yourself a favor and take care of your number one, and that's you!
Dentistry is spoiled for choice with the number of implant systems available to them. However, you must go to a qualified dentist that only uses implants from reputable implant companies that have a flawless proven track record of successful osseointegration and results you can rely on.
Oral surgeons at Aria Dental only place FDA approved implants from the most consulted implant companies that supply dentists with only top-grade quality and the most advanced implants.
These FDA approved implants come from the implant companies listed below:
Nobel Biocare (USA)
Zimmer Dental (USA)
Straumann (SWZ)
Does the Dental Office Have a Room Devoted to Sterilization?
Dental treatments are efficient as well as a reliable sterilization system go hand-in-hand. For this reason, it's very comforting to know that the implant clinic you designate as your dental implant provider has loyal and hard-working staff members and room for sterilization. This factor eliminates the risk of infection, keeps you out of harm's way, and lowers the risk of implant failure.
Aria Dental's microsurgical implants are lodged in a highly advanced sterile environment with ABSOLUTELY NO cross-contaminations.
Are They Equipped with an Up-To-Date Facility with Cutting-Edge Technology to Diagnose & Treat?
Not only does breakthrough technologies and modern science provide faster diagnosis and treatment, but they also guarantee a more effective treatment alternative.
At Aria Dental, we exclusively use the most up-to-date and advanced materials and equipment to bring maximum effectiveness towards your treatment, raise the bar in patient dental care, and improve the outcome of our patients' experience.
These are just a few advanced technologies and treatments that Aria Dental have to offer:
Digital X-rays
Platelet Rich Plasma (Stem Cell Dentistry) and Growth Factors
Digital Impression by iTero Element
Where Is the Lab Work Being Done?
Surprisingly, many patients are unmindful and don't even ask where their crowns are being manufactured. It does matter, and many dental implant companies find cheaper, but not always better, dental implant manufacturers overseas. Nonetheless, you should keep in mind that a crown is inserted into your body, so you have every right to have validation and proof that your crowns are endorsed by the USA Health Department. Aria Dental does not send your crowns to countries outside of the USA.
Aria Dental commits itself to create all our patients' crowns in one of the most leading USA laboratories using special high precision and fast Digital Tooth Impression by iTero Element without the use of sticky and gummy impression material.
Do They Have a Flexible & Affordable Payment Plan?
Many medical and dental offices demand and expect to be paid in full after the patient receives their dental service. This financial obligation makes a lot of people in need of urgent and necessary dental implants a bit hesitant.
Our philosophy at Aria Dental is to put oral hygiene and our patients above financial gain. Therefore, we aim to make your dental implants very affordable, accept many insurance plans, and provide flexible payment options that include Care Credit, Lending Club, Simple Pay (which authorizes 0% financing and no credit checks).
As part of our pledge to give our patients a new wave of treatments with only the finest technology and training, we are proud to spread the word that Aria Dental is one of a small number of dental offices in California that offer metal-free Zirconia dental implants. If you require more information, feel free to contact us at 949-364-9600 or visit our website at www.ariadentalcare.com