You may already have a dentist in Mission Viejo, CA to whom you go for regular cleanings. But if you are concerned with getting a whiter, brighter, and more natural smile for the sake of appearances, it might well be time for you to seek out a cosmetic dentist in Mission Viejo as well.
What is the difference between a so-called regular dentist and a cosmetic one? You can look at it in this way. Both a regular and a cosmetic dentist have minimum training required to do simple treatment like fill a cavity. A cosmetic dentist, however, will have extensive skills and training to make aesthetically appealing solution for your filling such as using composite filling that comes as close as possible to perfectly matching the patient's tooth color and natural look. It could be stated that a cosmetic dentist will do their utmost to try and make the physical appearance of your mouth and teeth the best that they can be.
Why Might You Seek Out a Cosmetic Dentist?
When you hear that description, you might feel that residents of Mission Viejo who would seek out a cosmetic dentist are vain. In reality, though, some people rely on their appearances for their livelihood. If their smile is not bright and the color of all their teeth perfectly matched to one another, then they might miss out on personal or business opportunities.
For instance, if you're a recognizable public figure like the spokesperson for a business, then your physical appearance matters a great deal. Perhaps you often need to get up in front of large groups of people and show off your pearly whites. You might appear on talk shows a lot where your teeth are going to visible across millions of TV screens in high definition. Perhaps you're the CEO of a company, and you're often in lots of high-profile meetings with foreign clients, or you might be a politician, or you're simply a parent of a child and want to have a bright smile in front of your child's friends and teachers.
Any of these individuals trade on their looks, and that includes their teeth. A dental problem for them must be taken seriously, and that includes aesthetic issues.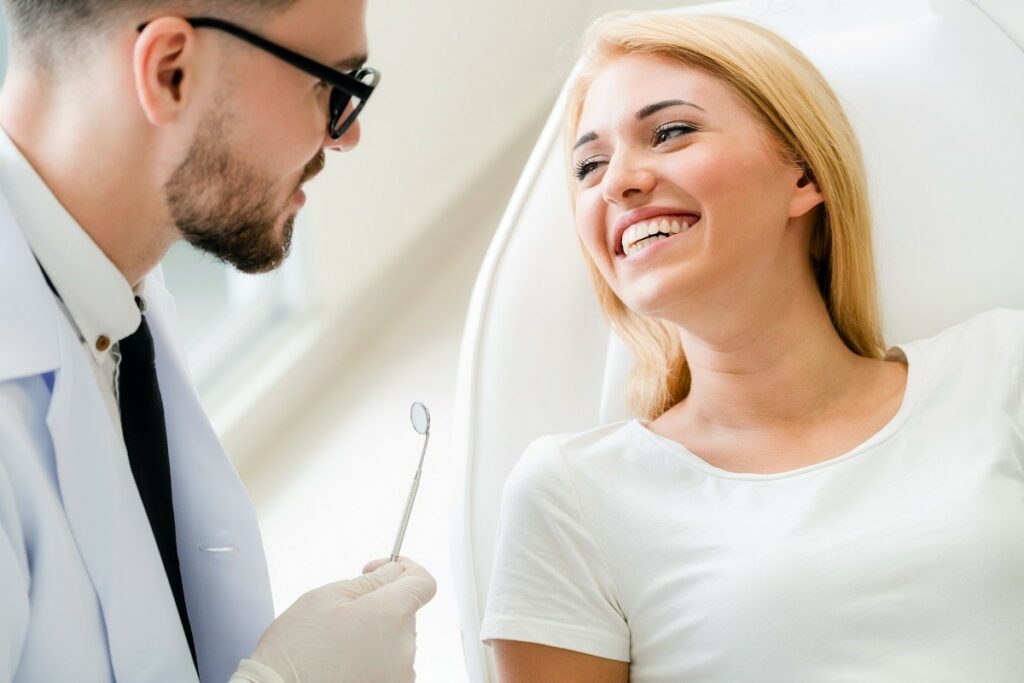 How to Find the Best Cosmetic Dentist in Mission Viejo
For the residents of Mission Viejo, CA, who already have a regular dentist but who need a cosmetic specialist for a particular issue, locating the best available is going to be a priority. How can you track down the right practitioner for you?
One thing that you can do is to look at online reviews. We live in an era where there is more information available than ever regarding any company or individual who administers or sells goods or services. You can look at the reviews for cosmetic dentists on Google, Yelp, Bing, and similar sites and search engines. Look at how highly the dentists are rated, but also read some of the individual reviews and comments to get a better assessment of whether you would like to become a patient of this practitioner.
It's also helpful to ask any friends or relatives if they have gone to a cosmetic dentist in Mission Viejo, CA recently. Getting a recommendation from someone you trust to back up what you read online is likely to make you feel more confident about the selection you make. You can also ask your first-hand source about things like the temperament of the dentist that might not be apparent based on the online reviews you read.
Have a One-On-One Meeting
Next, you'll need to go and see the facility of the cosmetic dentist in Mission Viejo whom you have selected. Take careful note of things like how friendly the receptionist is. See if they take your insurance or whether you will have to pay for anything out of pocket. Assess the cleanliness of the reception area, and whether there are recent magazines for you to read while you wait or whether if the area is modern, relaxing, welcoming. Is it a small, old looking, and dark office or vibrant and airy ambient with large window to bring natural light that give you a sense of soothing and relaxation? All these small details will help you form an accurate idea in your mind of how reputable this practice is.
When the time comes for you to sit down with the cosmetic dentist, ask them about their credentials. Ask how long they've been in practice, and whether there are any particular procedures in which they specialize. Then you can explain what brings you to them and hear how they would go about fixing the problem. Find out if cosmetic dentist has advanced training, experience, and continuing education to accommodate each patient's exceptional situation and needs. Find out if the dentist treats each case diligently with utmost priority without compromising patient safety or satisfaction. Don't choose a dentist who try not to talk about all of your problems because that dentist is most likely not qualified to do the work or do not have the proper equipment and technology. As matter of fact, choose a general and cosmetic dentist who has proper qualifications and has a hi-tech dental office that offer all American Board-Certified Specialists such as Endodontics, Periodontics, Oral Surgeon, and Orthodontics.
Throughout the meeting, try to judge whether or not you would feel safe entrusting yourself to this person's care. You don't need to establish some deep rapport with your dentist, but you would at least like them to be friendly and accommodating toward you.
If you and the dentist you chose seem to be hitting it off and you feel confident that they can do the work you need, you can schedule an appointment and move forward. Cosmetic dentistry is something that lots of people need, and you deserve someone who has a significant level of expertise. It's probably best not to put yourself in the hands of someone who just got their license. They might do a fine job, but getting the work done by someone who has years of experience will likely make you feel more confident that they are going to make your smile unique and attractive the way you always wanted. Choose a cosmetic dentist who provides fully-customized and top-notch quality treatment with great care and personal attention for every single patient.
Is Your Cosmetic Dentist offering the highest standards and the Latest dental solutions?
Trusting the outcome of your cosmetic dental experience is dependent on not only the skills of your dentists, but also the products that they choose to use for your treatment. Make sure they used "Made in USA" products from highly reputable companies. Also make sure their laboratory is local and meet US Dental standards, not outside of USA.
Does your Cosmetic Dentist have a Hi-Tech dental office?
Choose a cosmetic dentist who has utilized the latest in cutting-edge technology and the best of an infection control in order to provide the best innovative treatment options for you. For instance, make sure your cosmetic dentist utilizes in-house 3D CT-Scan, digital X-rays, Digital Impression, Laser Dentistry, Sedation Dentistry, Stem Cell Dentistry (PRF), and Metal-Free Dentistry (Holistic Dentistry) in order to provide the best and most modern diagnoses and treatments for you in the safest and the most convenient way.
Does your Cosmetic Dentist Collaborate with other dental Specialists under the same roof?
Make sure your cosmetic dentist collaborates with all other top American Board-Certified Specialists in the same office such as Periodontists, Implant Specialists so in case of any need for a dental specialist such as oral surgery you do not have to be referred to another unknown office. In addition, when multiple specialists work in the same office, their close collaboration could help your treatment plans to not include opinions of many doctors, but also be completed with cost-adequacy.
Follow this formula, and you should be able to get whatever problem fixed that led you to seek out a cosmetic dentist. You can return to your speaking engagements or whatever else takes up your time with a new sense of confidence and pride in your appearance. When you look your best, you feel that way too, and your smile and the state of your teeth are always going to play a significant part in that.
To learn how we can give you a smile that will give you confidence. Please call (949) 364-9600 today for an appointment with an Orange County Top Cosmetic Dentist at Aria Dental in Mission Viejo near Ladera Ranch, Laguna Niguel, Coto De Caza, Irvine, San Juan Capistrano, and Dana Point.