Dental evaluations are one of the first things you will undergo when visiting a new dentist. This routine check-up will allow your oral care professional to get a sense of your current oral health and its implications for your overall health. If you have any complications with your pearly whites, then you may require a dental implant. 
In the past, teeth were an invaluable resource because once they were damaged or decayed, they were lost forever. Thanks to research and technology, oral care professionals have been able to help people get their smiles back. So, while it is still important to maintain strong, healthy teeth, patients have an array of options to restore the cosmetic and functional aspects of their teeth when they need it. 
If you are interested in getting dental implants, then you may be curious to know how exactly this procedure works. Oral care professionals can make an exact replica of your tooth root, made of titanium and metal-free ceramic Zirconia. This will then be surgically positioned in your mouth to fill out any gaps in your smile. Unlike dentures, implants are permanent, which means that they can't be easily removed. 
According to an oral surgeon, many people are surprised at how natural dental implants can look. Technology has advanced so much that artificial teeth can function, feel, and look just like the real thing! When patients get this kind of work done, they are often relieved at the finished result. Not only do they have a fully optimized set of teeth, but they also get to keep their beautiful smile. 
Here are some of the reasons why someone might need a dental implant:
To replace missing teeth

To support a bridge (when dentures aren't wanted)

To secure dentures

To fix your bite

To improve your smile  
With the help of an experienced dentist in Laguna Niguel, dental implants can solve a variety of oral health issues and achieve a natural-looking smile. Whether you need one or two implants or a full-mouth procedure, there are many versions of this surgical practice that your dentist office may offer. You can achieve many personal advantages by choosing this procedure to restore your smile.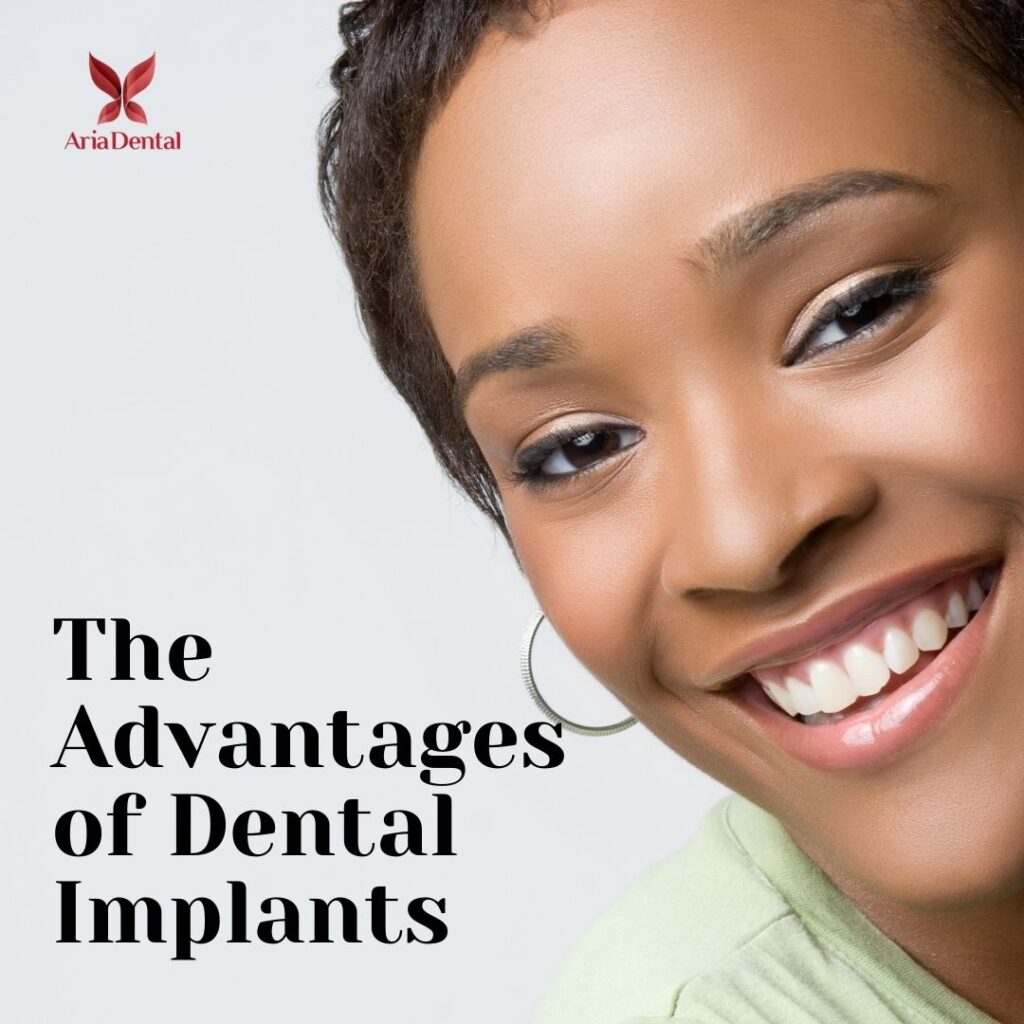 Here are some of the main benefits of dental implants:
Dental implants restore your smile in a natural-looking way.

Dental implants are a long-term solution. 

Dental implants can help protect your natural teeth and your jawbone while also stimulating bone growth and protecting your mouth from bone loss.

Dental implants are secured, unlike dentures, which makes it easier and more comfortable to go about daily activities. 

Dental implants can reduce symptoms due to

TMJ

(temporomandibular joint). 

Dental implants cannot develop cavities!

Dental implants can replace the missing tooth and stop adjacent and opposing teeth to move

Dental implants can help you to have a firm bite and chewing power

Dental implants do not need to be anchored to other teeth, like bridges

Dental implants stop your bone resorptions and preserve jaw bone recession

Dental implants preserve your facial contour and beauty. 
There are so many positives to dental implants, including a significant increase in self-esteem. When our mouths are healthy, strong, and beautiful, we feel more confident to go about our lives. So, talk to your oral care professional today and see if you qualify for a dental implant procedure! 
What Makes Aria Dental's Dental Implants Stand Out
The majority of dental clinics offer only titanium implants because they could find cheaper and lower quality implants from many countries. 
One of the things that make us different than another office or clinic is that we practice holistic, biological, and homeopathic dentistry. Due to our special expertise, we offer both the highest quality titanium and Ceramic Zirconia implants. However, our focus is white ceramic zirconia implants because unlike titanium implants that contain metal alloys, Ceramic Zirconia implants are metal-free and ultra-biocompatible to the human body. Thus, zirconia implants are safer, more durable, stronger, and more natural. Since Ceramic Zirconia is ultra-biocompatible and metal-free, it doesn't lead to medical conditions such as autoimmune diseases. 
Titanium implants contain metal-alloys that could erode overtime and black or silver metal color can bleed into the surrounding area and make your gum looking black; however, since ceramic zirconia implants are metal-free, they do not bleed into your gum. In addition, if your gum recessed for any reason, the ceramic implant does not show because they are white, but the black or silver color of the titanium implants will be visible, thus, ceramic implants are more beneficial even aesthetically.
To consult with the expert doctors and top implant specialist at the 5-star implant center in Laguna Niguel, Mission Viejo, and the entire Orange County, please call or text us at (949) 364-9600 or visit our website at www.AriaDentalCare.com