Maryam Horiyat, DDS, the dentist in Laguna Niguel ‌and Mission Viejo, has got you covered if you are looking for a holistic dentistry treatment that supports natural healing and is minimally invasive. If that sounds like your cup of tea, you will probably want to check out what she ‌has to say about the amazing advantages of dental ozone therapy.
Dental ozone therapy is increasingly becoming one of the most effective treatment options that dentist‌s ‌use today. This is a minimally invasive and conservative method of oral car that is used for the following reasons:
remove infections and cavity-causing bacteria
heal gum infections and support bone regeneration
reduce tooth sensitivity
For many years, holistic dentists have used this procedure. However, it has only been till lately that it has achieved significant attention as bacteria are becoming more and more antibiotic-resistant.
Dentists, particularly Maryam Horiyat, a holistic and cosmetic dentist in Orange County find that there has been an increased demand from patients requesting Dental Ozone Therapy because it is conservative, painless, minimally invasive, and can dramatically reduce treatment time.
WHAT IS OZONE DENTAL THERAPY?
It is essentially a very powerful form of oxygen that has the unique ability to disinfect. This helps fight off many various forms of bacteria that can cause periodontal diseases, dental pain, and tooth decay.
Since this treatment can significantly reduce the presence of oral bacteria, it can ward off developing tooth decay. Ozone dental therapy gets rid of the damaging bacteria that break down tooth enamel, which can cause decay because it alters the oral environment.
Ozone dental therapy can disinfect and prevent common dental issues with the application of ozone gas. The negative charge of the ozone is naturally drawn to the areas of inflammation and infection. When ozone gas goes over a cavity, it not only kills the bacteria surrounding the tooth but changes the environment so the bacteria cannot thrive.
The bacteria found in your mouth multiply because of acidity. Ozone neutralizes oral acidity, changing pH levels, so damaging oral bacteria is removed, which results in healthier teeth and mouth.
HOW DOES OZONE WORK?
Ozone dental therapy is a naturally effective method of reducing infection and inflammation and is an excellent preventative treatment to help a patient avoid a root canal treatment.
A holistic dentist like Dr. Maryam Horiyat at Aria Dental will use Ozone Dental Therapy when she feels there is a need to clean certain areas of the patient's mouth. Utilizing a specialized ozone machine, the dentist will use a blast of ozone to remove any bad microbes or bacteria successfully.
Ozone can be applied:
using liquid
in a gaseous form
WHAT ARE THE ADVANTAGES OF OZONE DENTAL THERAPY?
Treats minor to average tooth decay
No discomfort during treatment
No drills or invasive procedures
Reduces patient anxiety
Safe and effective option for young children
The tooth can heal and become strong again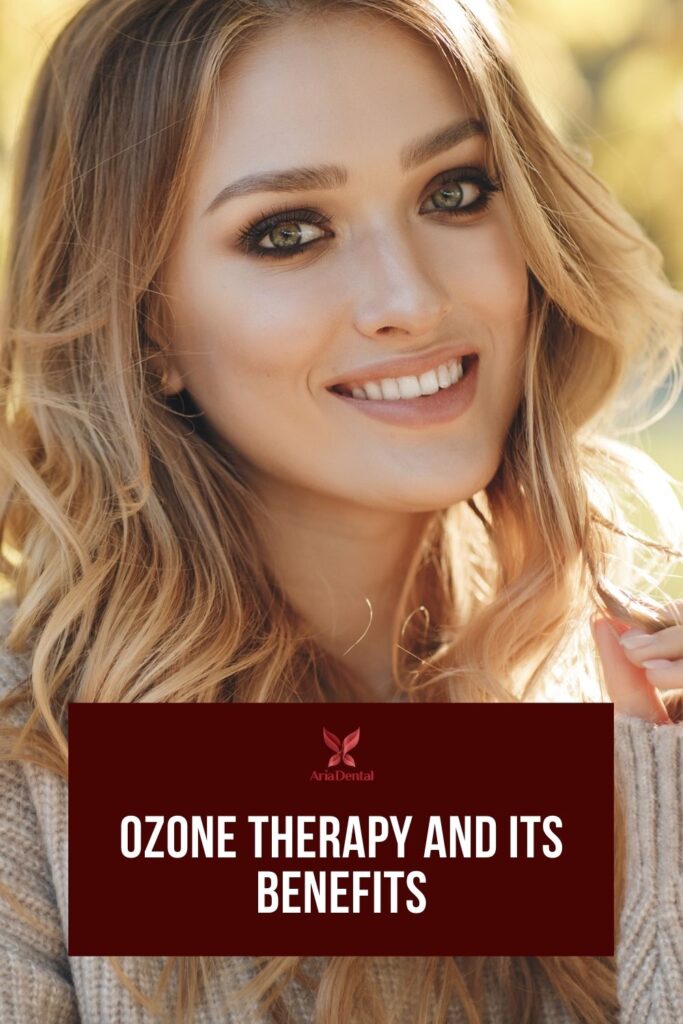 CAN OZONE THERAPY FIX CAVITIES?
Although dental ozone therapy is used to treat minor to medium levels of tooth decay, it cannot be used to treat severe tooth decay. Depending on the seriousness of the tooth decay, a filling may be needed as part of a patient's treatment.
IS OZONE DENTAL THERAPY PAINFUL?
If you try your best to avoid the dentist's drill as much as possible, ozone dental therapy can help you maintain healthy teeth. If you are an adult or have a child that fears dental treatments, you will be happy to learn that this therapy does not involve drills, fillings, or injections. In a nutshell, dental ozone therapy is painless. It is a non-invasive dental technique that treats the early signs of tooth decay. When oral health is monitored regularly, patients may never need to experience the drill.
WHAT IS THE EXPECTED RECOVERY TIME?
One of the most evident advantages of ozone therapy is recovery time. Ozone dental therapy is minimally invasive. The reason for that is because there is no drilling, topical numbing treatments, or pain medications that can leave you feeling exhausted and groggy. This will help you to comfortably return to your daily routine as soon as your appointment has concluded.
IS OZONE THERAPY SAFE?
Believe it or not, ozone therapy isn't new at all. It has been around for decades and has been used as a treatment for a variety of diseases. Ozone dental therapy is believed to be a safe treatment to maintain healthy teeth and mouth. Holistic dentists prefer to use ozone therapy since it is totally natural and free from side effects that are linked to many medications. Keep in mind that ozone therapy uses gas – and not medications.
CAN OZONE THERAPY BE USED FOR OTHER TREATMENTS?
Ozone therapy has been successfully used in various dental treatments. In fact, ozone dental therapy is an effective treatment for patients who suffer from tooth sensitivity. Also, patients have proclaimed that they have experienced fewer issues with cold and hot sensations after treatment.
Gum disease is a common problem, and ozone therapy's ability to fight off bacteria has proven to be highly beneficial. Plus, holistic dentists like to use ozone therapy as part of a root canal treatment to sterilize the canal to lessen the risk of infection and the need for retreatment or extraction.
WHY SHOULD I CHOOSE ARIA DENTAL FOR MY OZONE DENTAL THERAPY?
We have always been there for our patients to provide them with new and enhanced methods to manage oral and dental health. Our techniques include a more natural and conservative way toward oral hygiene.
Our Top Laguna Niguel dentist, Dr. Maryam Horiyat, is a certified and accredited member of the American Academy of Ozonotherapy (AAOS), Holistic Dental Association (HAD), International Academy of Oral Medicine & Toxicology (IAOMT), and International Academy of Biological Dentistry and Medicine (IABDM). Thus, she has the advanced training and experience to accommodate her patient regarding Ozone Therapy.
Ozone dental therapy is just one of the holistic treatments we provide our patients with at Aria Dental. Whether you require preventative services or restorative services, our highly trained staff of dental experts will work arduously to not only boost your oral hygiene but to protect your overall health.
If you would like to learn more about Ozone Dental Therapy in Laguna Niguel, Mission Viejo, and the rest of Orange County, then please get in touch with Aria Dental at (949) 364-9600. We are your trusted holistic dental provider, offering safe, non-toxic alternatives for every dental procedure.