Have you always been self-conscious of your smile? Have you always been on the fence about braces? Do traditional braces scare you? Do you want a hassle-free alternative to braces? Do you want to save time and achieve a better, straighter smile? Do you want holistic and metal-free orthodontics?  The cosmetic dentist Mission Viejo fully understand your concerns! The dentist Mission Viejo CA uses computerized, seamless and state of the art technology to provide the most effective orthodontic solutions. The cosmetic dentists Mission Viejo are gold providers of Invisalign procedures, which may be the answer to all your dental prayers! If you have been grappling with the idea of Invisalign, find out below if it is right for you!
What is Invisalign? Are You the Right Fit?
Invisalign is a fully custom-made aligner which is used as part of orthodontic treatments to align and straighten teeth. The Invisalign aligner is clear and computer generated from a customized mold of the patient's teeth. Cosmetic dentist Mission Viejo will take an digital impression of your teeth without using gooey impression materials and create an aligner that is unique to you and will guarantee you the best results! Cosmetic dentist Mission Viejo recommend Invisalign for advanced teeth straightening and bite alignment. For example, Invisalign is ideal for gaps between teeth, under and over bites, and in some cases, even cross bites. Every two weeks, the dentist Mission Viejo CA will fully digital itero scan you to make sure you are tracing correctly mold and customize Invisalign trays to the shape of your teeth, which will work by gradually aligning and straightening your teeth over time. Unlike some other brands of clear aligners that only make your front tooth look straight, Invisalign will straighten only your front and back teeth, but also could fix your bite.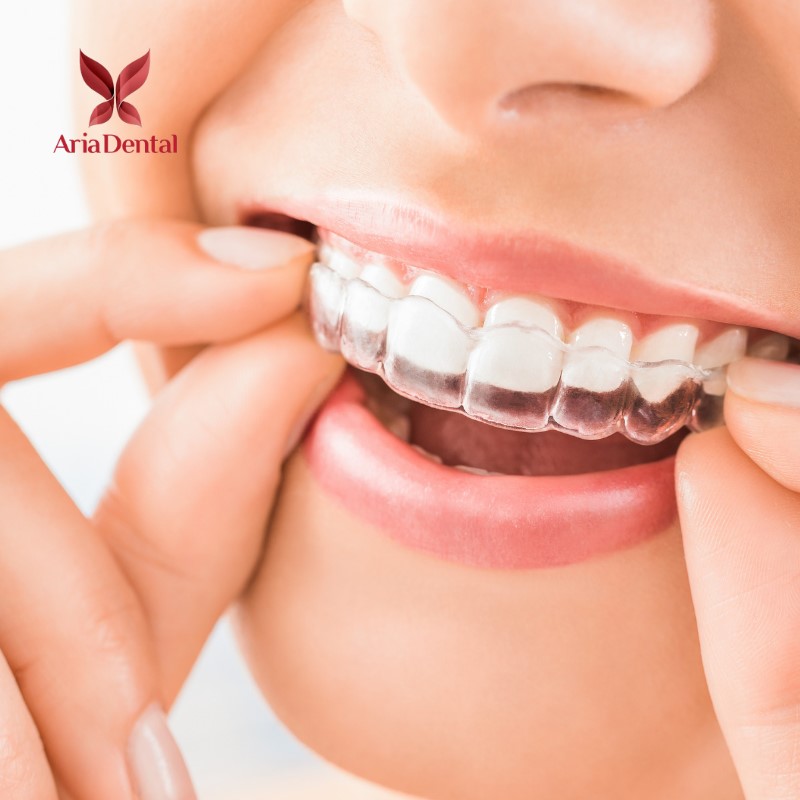 Why is Invisalign Good for the Patients?
With advances in dental practices and technology, Invisalign has quickly gained popularity as the go-to option to guarantee a better and brighter smile! There are a lot of benefits for patients when they choose Invisalign as their orthodontic treatment. Why is Invisalign so great you ask? Cosmetic dentist Mission Viejo have all the answers!
❏     Discreet! With Invisalign, there is no need to be self-conscious about braces. They are practically invisible to the naked eye, even when looking in the mirror! The clear design of the aligners attracts minimal attention to the teeth and are more practical for formal settings and important events. With Invisalign, you can go normal life without any hiccups or embarrassment. Get your brighter smile fuss-free!
❏     Easily removable! Unlike conventional braces, Invisalign can be easily removed. If you have an important event coming up such as a wedding, a graduation or a prom, you can remove your Invisalign and then fit them right back in!
❏     Wire-free! Invisalign is a clear plastic aligner and does not contain any wires that are usually associated with traditional braces.
❏     Minimal upkeep! Invisalign aligners require minimum maintenance. If Invisalign aligners ever get stained, they can be easily cleaned at home with a toothbrush and some bleach and water, and you will get a new one almost every two weeks
❏     No eating restrictions! As Invisalign are easily removable, they can be cleaned once they are removed from the mouth without the assistance of the orthodontist. This means that they are no eating or drinking restrictions on the patient.
❏     If you play sport, you won't get injury or cut that you could get from metal braces; if you sing music, you could remove them during to signing and will not affect your voice.
❏     Fast-acting! Invisalign are worn from 6-18 months depending on the condition of the teeth.
Why is Invisalign Good for Dentists Mission Viejo?
Along with patients, Invisalign can also prove to be the more efficient option for dentists. Dentist Mission Viejo CA outlines why Invisalign works as an effective orthodontic treatment for them.
❏     Fully Customizable! Invisalign aligners are customized to each individual patient's teeth orientation. As part of the Invisalign treatment, the Cosmetic dentist Mission Viejo first take a 3D impression of the teeth, and map out a treatment plan for the patient. This plan is then put into action as the aligner is developed. Since the aligner is designed to move each and every tooth into the right sequence, it ensures better results for the patient and cosmetic dentists. The dentist uses ClinCheck, which is 3D animated treatment plan endorsed by Invisalign itself. ClinCheck allows dentist Mission Viejo CA to see the patient's teeth in 360 degrees, as well as predict how the alignment of the teeth will change over time. The cosmetic dentist Mission Viejo use this software in order to fully custom design the aligner tray and guarantee a beautiful smile sooner than you think!
❏     Shorter dental appointments! Due to advances in Invisalign development technology, dental appointments are less time-consuming. This means that the cosmetic dentist Mission Viejo can attend to more patients and help them with their dental needs everyday! Furthermore, with Invisalign, dentist appointments are less daunting and can prove to be more enjoyable. This ensures that patients are happy, are excited to come back and are willing to recommend a cosmetic dentist Mission Viejo to their friends, family and neighbors!
What to look out for?
❏     Feeling Soft Pressure but no Pain or Irritation. Invisalign does not cause pain or soreness; instead, the patient may feel some pressure, which is less than the pressure from braces. As Invisalign is also changing the orientation of teeth, there will be pressure – that means they are working!
❏     Great and Inexpensive Investment. Since Invisalign aligners are fully customizable, faster-acting and more technologically advanced than traditional braces, they can be an investment. Nothing should be expensive if you gain oral and overall health.
❏      It is all about consistency! Invisalign have to be worn for about 22-24 hours a day. Since they are removable, it is imperative that they are put back in at the right time and cared for the right way. This is the only way to ensure that you get the perfect smile that you deserve.
❏     No food restriction as Invisalign is removable. Although Invisalign gives patient the freedom to eat or drink what they want; they need to be removed and cleaned after every meal to give you ease in hygiene and improve oral health.
Stop by the cosmetic dentist Mission Viejo of Aria Dental to find out if Invisalign is the right fit for you. Take your dental health in your own hand and let dentist Mission Viejo CA help you achieve the best results! Aria Dental believes that a visit to the dentist should be pleasant, enjoyable and most of all, worth the patient's time, money and effort! Come into Aria Dental and get to know our cosmetic dentist Mission Viejo. Enjoy both personal and welcoming treatment from our talented dentists. Start your journey to a brighter, bigger smile today!
Please call (949) 364 -9600 today for an appointment with a dentist at Aria Dental in Mission Viejo or visit us on our website: www.AriaDentalCare.com