It is common practice that most children who require braces get treatment when they are about the ages of 10 to 14. However, orthodontist Mission Viejo has come across situations where a child may require treatment before these ages, which is referred as early orthodontic treatment.
If a child needs treatment at an age that is younger than usual, it is usually preventative. A good orthodontist can catch some issues and solve some problems faster and more straightforward when the patient is younger. Although wearing a retainer as a child isn't going to replace the need for braces in the future, it can make the braces treatment quicker and more effective. Also, preventative treatment makes sure that a bigger issue doesn't happen down the line. When simple preventative measures are taken, they can stop tooth loss and overcrowding.
What Possible Conditions Can An Orthodontist Mission Viejo Minimize or Possibly Prevent?
Your orthodontist CAN evaluate your child's teeth, bite, and jaw and can diagnose your child if he/she is in need of an early orthodontic treatment to reduce the severity of the following conditions:
Crossbite
When the diagnosis is late and treatment is delayed, a crossbite can bring about any major issues. This is because the temporomandibular joint (TMJ) links your jawbone to your skull and a crossbite can escalate the likelihood of TMJ disorders. For instance, this disorder is responsible for the cause of jaw pain or tenderness, trouble chewing, aches in the face and ear or the jawbone locks up. Furthermore, a crossbite could possibly be responsible for the wearing away of teeth. Orthodontist Mission Viejo can improve or repair a crossbite with early orthodontic treatment to prevent future issues. The main cause of a crossbite is usually a
narrow upper jaw. This narrowness is what might cause developing teeth to get crowded, so the jaw is widened with a device that can solve the bite issue and make space for developing teeth.
Protruding Upper Teeth
When the teeth on the top protrude past the bottom teeth, there are some risks involved. First of all, protruding teeth have a higher possibility of being chipped or knocked out, especially with children who are accident prone. Unfortunately, kids can be cruel and some children are teased by other children which could result in a lack of self-esteem and other psychological problems. This is why children with protruding upper teeth can take advantage of reducing the protrusion earlier than usual.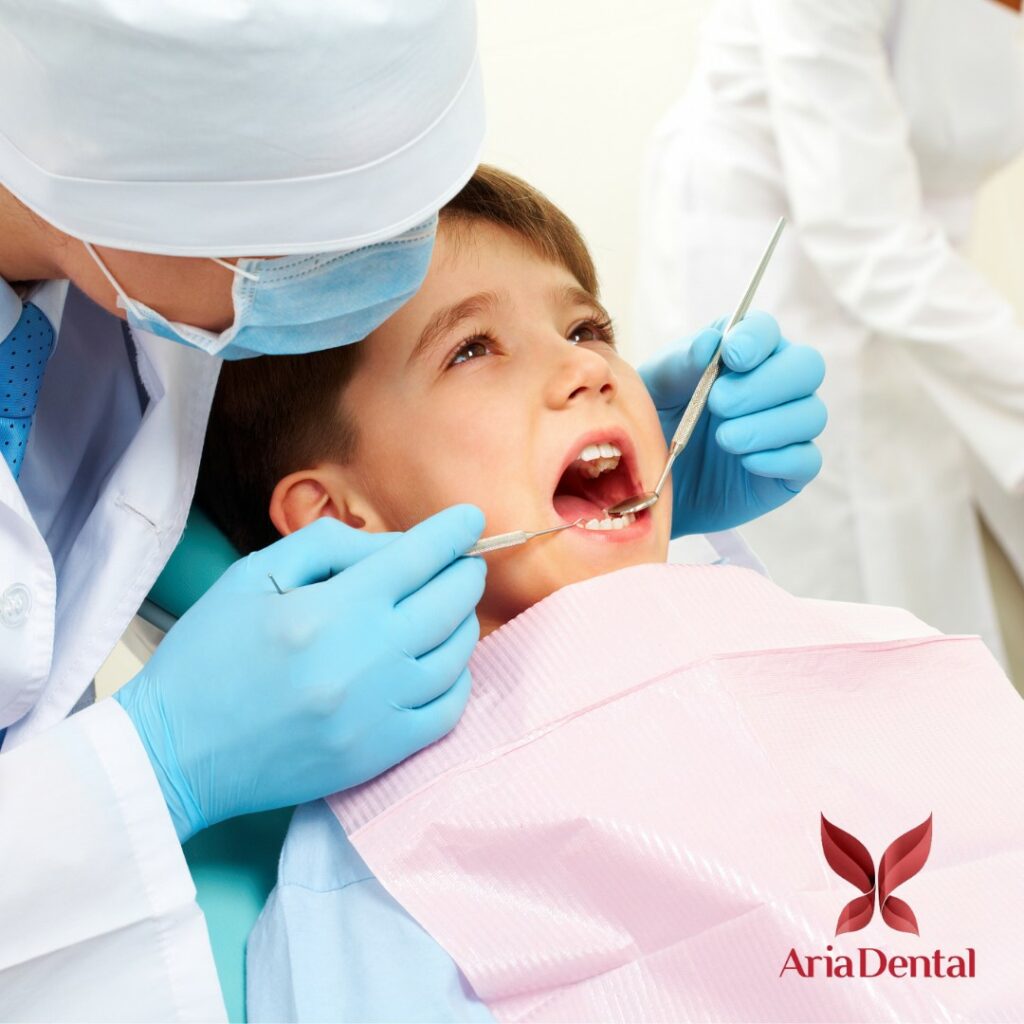 Unattractive Teeth
In today's society looks matter and they come first. Appearance really matters to children, adolescents, and adults. There have been cases where children are so disgusted with their teeth that they actually ask, or even beg their parents for braces at a young age just to enhance their looks. More often than not, the child's self-esteem improves when their teeth have straightened out.
Impacted Teeth
There might not be any pain directly coming from the impacted tooth, but it can cause pressure or rubbing on the surrounding teeth, which can cause tooth loss. Additionally, an impacted tooth is the reason for gum problems or infection and may come out in a very abnormal position.
Most of the time, patients don't even know they have an impacted tooth until they have an x-ray at the dentist or orthodontist done. There are some instances where patients have an issue with baby teeth not falling out, an adult tooth has not erupted or only half erupted, these issues are due to impacted teeth. In some cases, with early intervention for instance, extracting the baby tooth or increasing a narrow jaw, impact teeth may be influenced into a normal position. There are times when impacted teeth have to be uncovered by a gum specialist and braces can bring the impacted tooth into place without any risk of damaging the neighboring teeth.
Psychological Issues
Nowadays, it's very common for children as well as adults to suffer from body image concerns. There are individuals who have unrealistic expectations of looking similar to someone famous or an influencer they follow on social media. At first glance, this may look like harmless vanity, but it can be a negative outlook on how young people judge their appearance. Their bad self-esteem can be irreversible and be the catalyst to mental health problems that go on into adulthood. Bullying comments about a child's less than perfect teeth can be destructive. These comments can bring about depression and anxiety in children. A majority of parents are taking their children to orthodontics to correct their child's cosmetic teeth issues because they are worried that their classmates will tease them.
When Should A Child See An Orthodontist?
Dentist Mission Viejo CA claims that if you think your child requires orthodontic treatment, it's a good idea to visit an orthodontist when they are about the ages of seven and nine. Despite the fact the child might just have just received their molars, an orthodontist can inspect the growth of the jaw and palate as well as the loss of baby teeth. Some problems are very noticeable at this age while other children require to wait until most of their teeth have settled in before it's confirmed whether or not they require braces.
Roughly half of children who visit their orthodontist at an early age, require early orthodontic treatment. It doesn't necessarily mean the treatment will start immediately but provides the parents with more information about the options that are available. On top of that, there are some parents that like to visit the orthodontist annually to check on their children's adult teeth eruptions until it's time for them to have early intervention or braces.
Early Treatment Vs Later In Life
Anytime is a good time to have orthodontic treatment. Presently, more adults than ever are visiting orthodontists for braces. However, there are pros and cons when receiving treatment early or later in life.
Advantages of Early Orthodontic Treatment
Treating children is easier because the palate and the jaw are still growing. Therefore, if the issue is overcrowding, an orthodontist can use an expander plate to increase the jaw size or smile to make enough space for the teeth. Also, having treatment as a child or teen is when most of their classmates are, so they feel equal. After high school teenagers might be set against treatment because they are too stubborn or certain events like Prom are coming up.
Receiving Orthodontic Treatment As An Adult
There are cases when adults are seeking treatment later in life because their teeth moved after treatment because back then there wasn't an option for a permanent retainer, or they didn't use their retainer long enough. Perhaps, their parents could not afford to provide them with orthodontic treatment when they were younger. Now that they are adults, they can afford their own treatment. Orthodontic treatment has improved a lot and there are many orthodontic treatment options available compared to the standard metal braces. For instance, Invisalign, lingual (inside) braces or ceramic braces which are often more alluring to an adult.
No matter your child's age bring them in for an appointment, for a professional opinion and we will advise you the best time that you should consider having him or her start orthodontic treatment. Likewise, if you are an adult seeking orthodontic treatment, bring yourself in and we can talk about appropriate options to correct your smile.
To learn whether you or your child need orthodontic treatment, and to discuss about orthodontic options that is right for your situation, please call (949) 364 – 9600 or visit our website (www. AriaDentalCare.com) today to schedule a consultation appointment.